You are Meant To Be Here
A Safe and Sacred Self-Exploration through Plant Medicine
Sunday October 15- Saturday October 21, 2023
Con Smania CR, Playa Buena Vista, Samara, Costa Rica
Gather with like-minded Souls as you explore your inner and outer world in a safe and sacred space.
Working with our team of guides and plants we create an environment that facilitates a unique and transformative experience.
Guided by a team who are each committed to the wholeness pathway using natural tools, we believe these experiences co-create a unique and transformative experience and call to us at the right time.
Come with an open mind and heart, and let the sacred medicine guide your transformative journey of self-discovery through play, releasing fear and anxiety, and step into the goodness of life.
You ARE meant to be here. On this path, in this life, here now considering a journey to this unique property in Costa Rica. Where the jungle meets the ocean and where exploring our inner world is supported through embodied experiences.
Are you curious but haven't yet felt a sense of safety in working with our plant allies?
Have you had experiences yet the set and settings weren't quite right and you know more is possible?
Have you journeyed solo and are wondering what bonding with a group of other explorers would bring to your experience?
Sacred ceremony can be a powerful tool for aligning the divine consciousness. By accessing a state of heightened awareness and connection to the universe, these journeys can lead to a greater sense of clarity and purpose in life, as well as a renewed appreciation for the interconnectedness of all things.
Ultimately, Sacred ceremony can be a life-changing experience that offers deep healing and transformation for those who are ready to embark on the journey within.
Allow us to support you before, during, and after. You are meant to be here and you are not alone.
Yes…the fire has been lit inside of you!
Let us tell you more….
To feel embraced in a one of a kind experience where you can freely talk about how to transform your life and world
To delve into a powerful experience with other like-minded Souls dedicated to their growth and personal healing
To experience the perfect mixture of retreat, support, adventure, and integration
To give yourself the gift of exactly what you need, whether it is introspection, evolution, rest, connection, or all of the above!
If you said YES to any or all of these things, then this is the retreat for YOU!!
Sign up today to join Fiorella, Lauren, and Jill and begin your journey because You Are Meant To Be Here… in Costa Rica, October 15-21, 2023.
What YOU Are Going to Walk Away With…
The aftermath of the retreat can vary from person to person, but many report feeling a sense of clarity and insight that they had not experienced before. Participants often describe feeling a deep sense of connection to nature and a renewed appreciation for the interconnectedness of all things. Some may also experience a greater understanding of their purpose in life or a release of emotional baggage that had been holding them back. Overall, Sacred ceremony can be a life-changing experience that provides a fresh perspective and a greater sense of clarity and purpose.
We will have 4 weekly group calls after you depart the retreat, know that you will not be alone, that a group that understands your experiences will be available for reflection and integration.
→ A sense of clarity and insight
→ Deep connection to self and nature
→ Renewed appreciation for interconnectedness of all things
→ Greater understanding of personal purpose in life
→ Bonds to other participants and guides that extend far past your time in Costa Rica
→ Fresh perspective on life and existence.
Sunday to Saturday with option to arrive a day or two early and stay a day or two more if that aligns best for you
Three group prep calls before arrival, Four group post-retreat integration calls and optional 1:1 support from your choice of guide
Full day psilocybin ceremony experience in a sacred and safe setting on Tuesday
Get settled in with a casual dinner and 1:1 session on Monday morning to release any imprints and discuss any anxieties that may be arising
Add an optional Bufo ceremony Kambo sessions and additional integration time
Chef prepared Breakfasts and dinners
Unlimited smoothie and snack bar
Unworkshops and Integration Circles
Waterfall Walk
Unique Sound Healing Experience
Fire Ceremonies and Beach walks
Daily mindfulness, movement, yoga and meditation practices
Option to Visit a Macaw Reserve or Kayak to Chora Island
A home for the week you aren't likely to forget anytime soon!
Housekeeping and laundry services
Transportation to and from Liberia airport.
And so much more!
*all experiences are covered by your retreat fee and are optional, no refunds will be offered on any experiences you choose to forgo.
What you are responsible for:
Your round-trip airfare from home
Fees for any spa activities (our massage therapist is incredible, $130 for 60 minutes/ $170 for 90 minutes )
Add-on nights and additional Bufo or Kambo sessions
Personal, medical, or trip cancellation insurance (required)
Flights:
Arrive into the Liberia Daniel Oduber Airport (LIR) on Sunday October 15 before 3pm if possible so we can pick you up and get you settled in before dinner. Departure on or after Saturday October 21.
All payments are being collected by the venue, Con Smania CR through their US-based LLC, Con Smania Collective LLC.
You can choose to pay via Wise, US Bank Transfer, Zelle or Credit Card.
Deposit is due at time of registration to secure your spot. Balance due on September 24 2023 and is automatically charged if paying via credit card and a reminder will be sent for all payments due.
Payments for add-on nights and addons are collected at time of arrival, USD cash is appreciated.
Tantalize your senses and transform into your best self in one of Earth's most restorative destinations… the beautiful and lush Costa Rica. The air is cleaner and fresher, the sun is brighter, the energy is more vibrant. It's the ideal place to activate your greatest potential and honor your deepest purpose.
You'll join us at a property experiencing it's own transformation… from hotel to retreat center: Con Smania CR. The physical manifestation of the life's work of our managing partner in supporting others so they can share their mission with the world. Each structure is unique and positively invites exploration through the winding paths and gorgeous landscaping.
Bordered by our own landing strip – or pasture when our equine friends come to visit – and very few neighbors, this safe and sacred space is also just a 10 minute stroll to the Pacific Ocean.
Guanacaste trees shade the property and provide home to a variety of wildlife, including the howlers, parrots, iguanas and so much more.
From hidden meditation spots to the grand and magnificent main building we call Haven, there is so much to explore on the property, or just lounge at our unique and fun pool for the rest you deserve.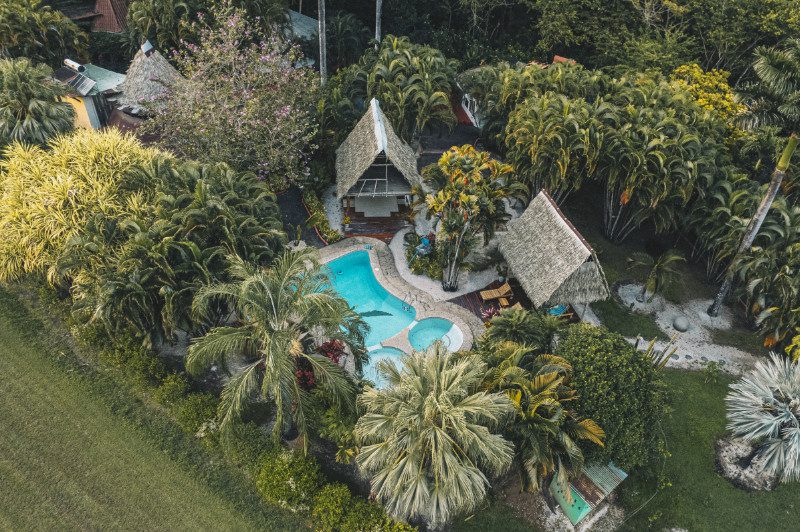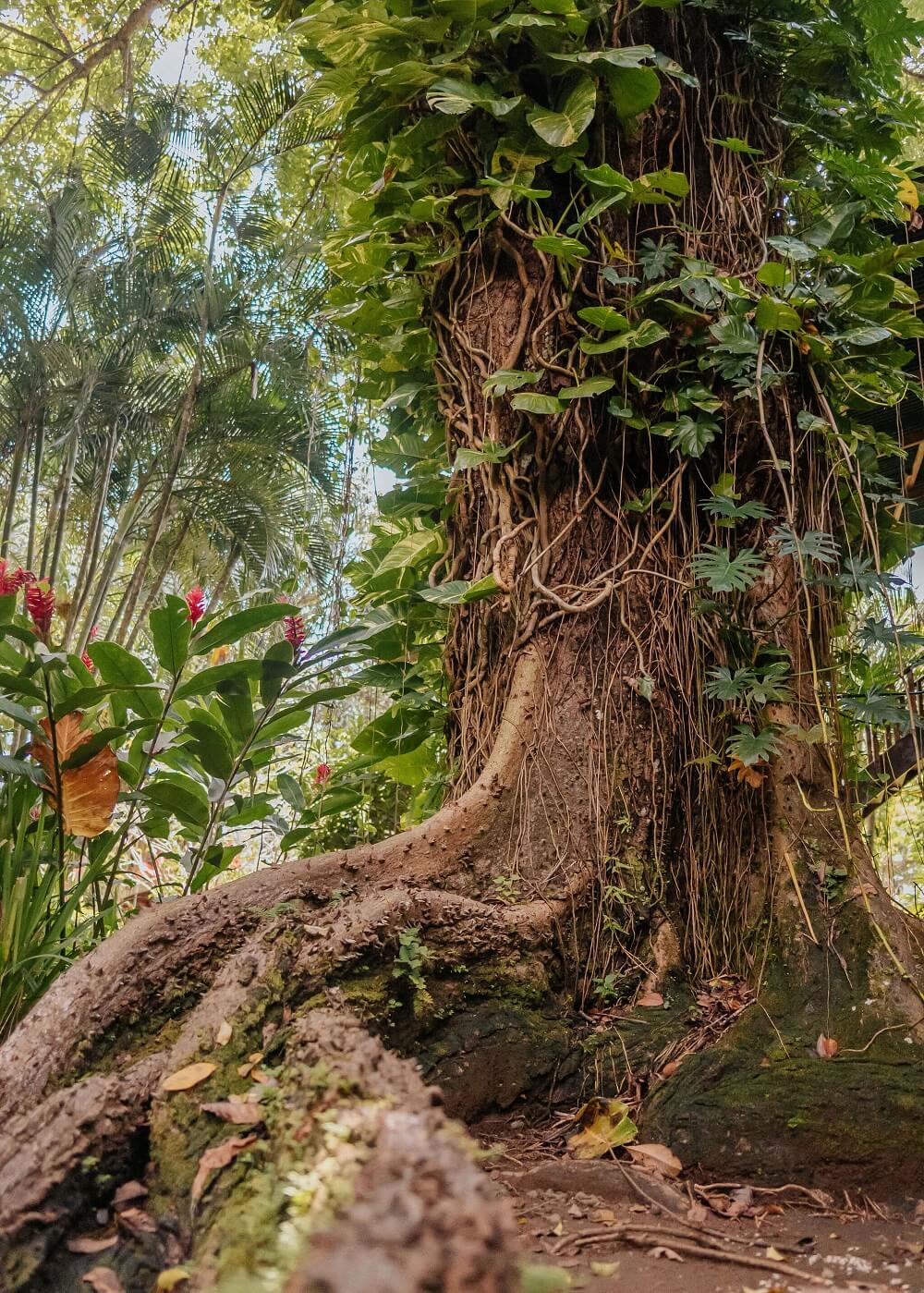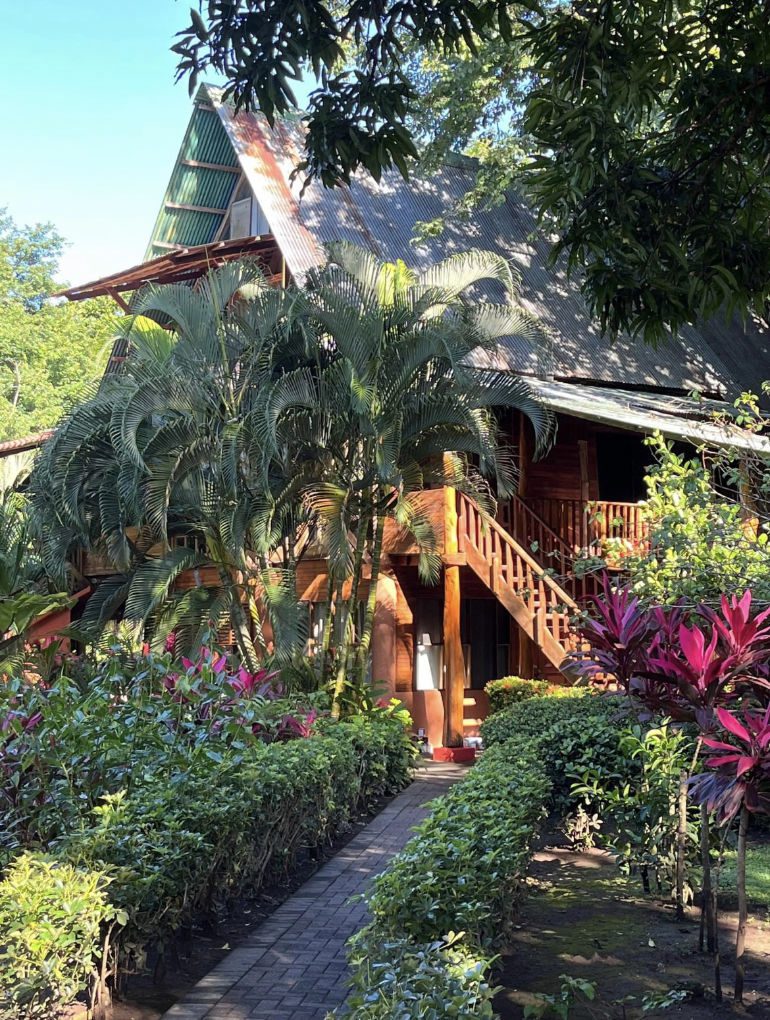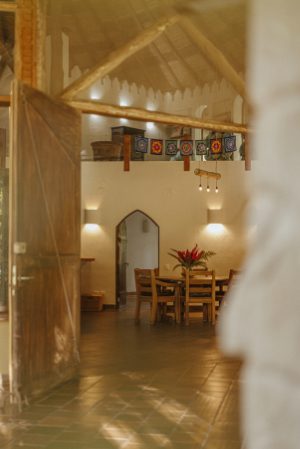 Inspired by the ingredients that make this one of the world's five Blue Zones, our Costa Rican chef-designed vegetarian-focused meals that burst with flavor and texture. Get a chance to taste your way through the possibilities on offer. We believe in honoring the land through connecting closer to source in all ways. Buffet style, we encourage you to take what you need knowing you can always return for more.
Breakfasts in our front restaurant and dinners may be served in the main building, our tiki bar and poolside lounge, or up at the restaurant. Let us surprise you!
Anytime you need more nourishment, blend yourself a smoothie from local fruits and greens and nutritious add-ins. Grab a snack – never know what we may conjure up.
Your Guides for The Retreat
Fiorella is a life coach and mindful entrepreneur whose mission is to empower others to see their unlimited potential. She focuses on expanding one's consciousness through transformational experiences, including personalized coaching, natural healing modalities, retreats, workshops and seminars.
Jill is the Creator of Magic at Con Smania CR and steward of the project and property. A passion for supporting heart-centered entrepreneurs, you will often hear her say to "focus on your genius, let others focus on theirs" as a way for people to recognize how they can release control and work at the innersection of what lights them up and what they excel at. Retreats are her own place of deep contentment.
Limited openings available.
Sunday through Saturday, including ceremony on Tuesday and all activities.
Shared Occupancy $3997 per person in Estrella or Sol – large units with Jack and Jill bathroom and twin XL beds 4 beds per casita or Lofted Apartment with Shared bathroom.
Guaranteed Private – single occupancy $4997 per person
Shared Bed Private – $6497 two people
Mariposa, Treehouse, Mama Guana or Sunshine Sanctuary (4 total guaranteed privates available)
Optional Extensions
+$400 for Bufo
+$150 per Kambo session
+$180 per additional night
To Join Us
Choose your accommodations below, then place your non-refundable deposit of $2000 USD or pay in full.
The balance is due September 28th, 2023. Payments for Optional Extension nights and additional services are due at time of arrival.
Shared or guaranteed Privates…
choose your accommodation and rates below.
By completing the checkout below, you agree to these terms.
Event date Oct 15-21, 2023, add-ons from Oct 14 to 23.
Due to the special nature of this gathering, your fee is non-refundable. Con Smania CR is to be held harmless for any actions taken during your stay. You will be asked to complete a personal, medical and release form prior to your participation.
By completing the checkout below, you agree to these terms.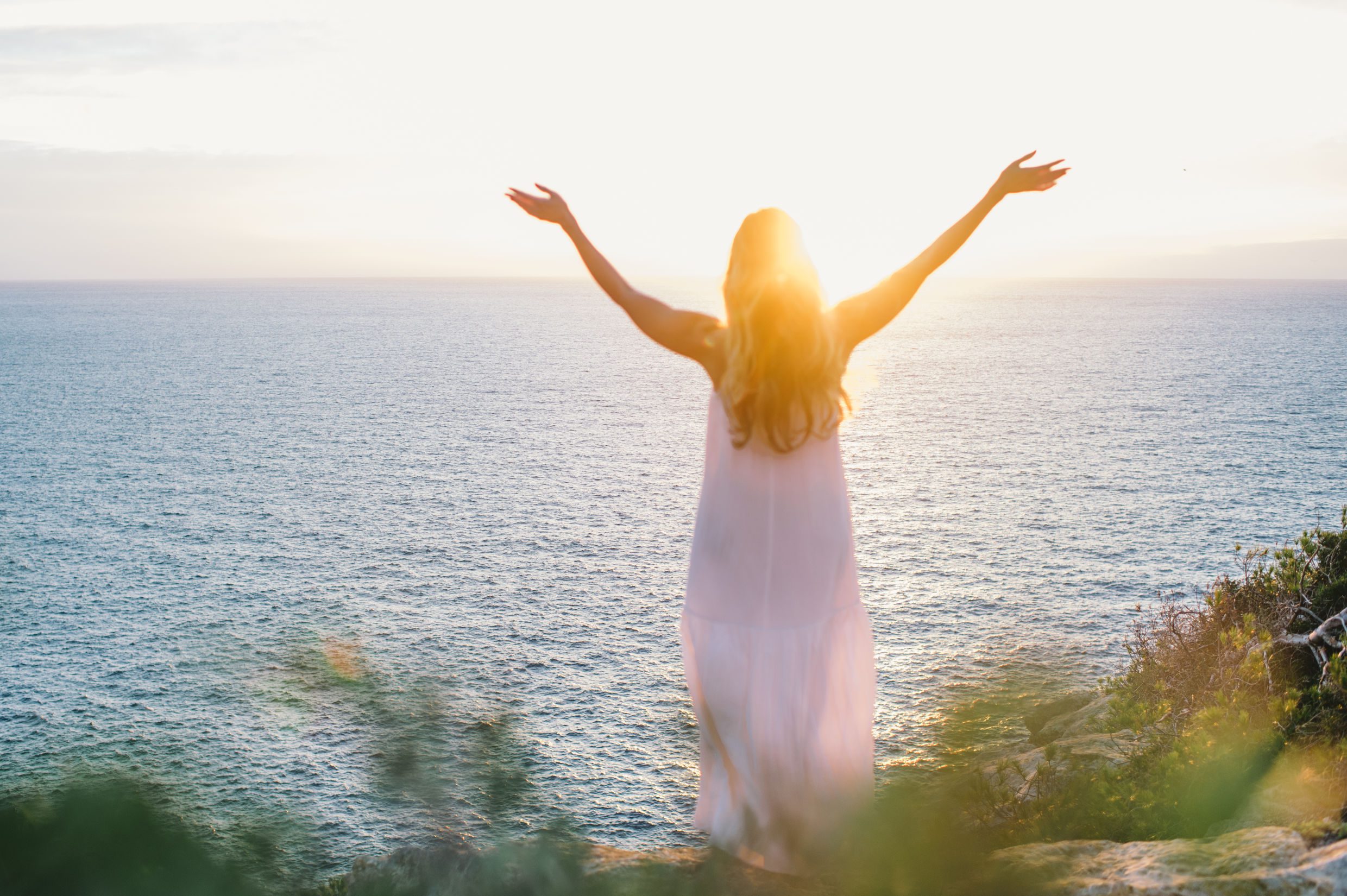 You Are Meant To Be Here – October 15-21 2023
You are meant to be here in Costa Rica October 15-21, 2023. Come with an open mind and heart, and let the sacred medicine guide your transformative journey of self-discovery through play, releasing fear and anxiety, and step into the goodness of life.
You are paying now for the main retreat. Add-ons will be charged once on property. Choose Shared or Private and then Pay in Full or Deposit. Once chosen, click on Select Options to add to cart. Complete your checkout via Wise, Zelle or bank transfer or Credit Card.